Ξ October 12th, 2005 | → 0 Comments | ∇ Music |
Stumbleupon
Review
of :
http://www.singers.com/choral/mysterebulgares.html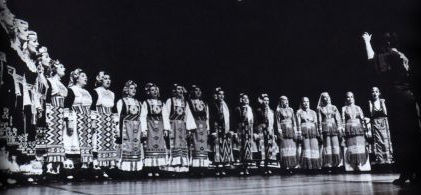 Le Mystere Des Voix Bulgares
In 1951, the father of Bulgarian concert folk music, Philip Koutev, established the Ensemble of the Bulgarian Republic. His goals was to join the rich heritage of his country's solo folk songs with harmonies and arrangements that highlighted their beautiful timbres and irregular rhythms.
One year later, the Bulgarian State Radio and Television Female Vocal Choir was founded.
Then as now, its members are singers from the rural regions of Bulgaria, each an informal apprentice in the folk songs of her home.
The ensemble, now under the direction of conductor Dora Hristova, has refined Koutev's original idea into a fine art. The Choir's imaginatively arranged songs join traditional folk melodies with sophisticated harmonies and compelling rhythms, performed in an exotic six-part vocal style. Repertoire is drawn from arrangements created by Bulgaria's most esteemed composers, among them Mr. Koutev, Krasimir Kyurkchiyski, Nikolai Kaufman and Petar Lyondev.
Leave a reply
You must be logged in to post a comment.